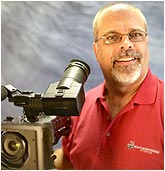 John Willman, video producer during the day but educated as a real estate agent.

Thinking of selling your HOME or BUSINESS ?
As a video producer John became a REALTOR® to help agents list their property and sell more efficiently.

John understands the ins and outs of home buying and how much time a video can potentially save both the buyer and the agent.

Avoid the one negative statement you hear all the time from buyers... "Why are you waisting my time?" Save gas by visiting the property on-line. If they love it on the video, chances are they will want to see it in person for a "second" view.

If they don't like what they see on the video you just saved yourself the headache and hastle of showing them a property they won't be interested in.

This works especially well with investors who may be out of town but still want to take a tour.

Make your next property the STAR with it's own portfolio and video on each listing!

Trust us to create a video production Charleston area audiences are looking for.